Playground Equipment | Playground Slides | Outdoor Playground Equipment | Kids Playground Equipment - Manufacturer and Supplier in Rajkot
Raghuvir Industries is one of the foremost designer, manufacturer and supplier of outdoor play equipment that deals with state-of-the-art outdoor equipment that focuses on the physical development of children from a very young age. We manufacture such equipment that is designed with proper planning to ensure the safeness of kids. The materials used in the play equipment make the products suitable to withstand any harsh outdoor weather. We are one of the best outdoor playground equipment manufacturers in Rajkot with best in class products that focuses on the physical development of children majorly with fun. Call us today and book your order right away.  We offer playground equipment in areas Nehru Udhyan, Jubilee Garden, Fun World, Krishna Amusement Park and Nursery, Gondal-Rajkot Highway and many more in Rajkot.
Classic Range of Outdoor Play Equipment
With the sophisticated technology used we are the leading manufacturer of Classic Range playground equipment which includes and wide range of multiplay systems, swings, slides, climbers, see-saw, and merry-go-round.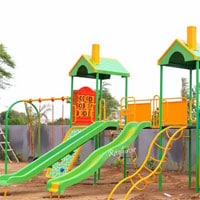 Our team has the best designed an assortment of playground equipment which includes a wide collection of attractive slides, climbers, swings, platforms. This creates varied multiple systems such as octagonal deck, five decks, three decks, double slide, hexagonal, double wave and many more.
All kids in the world love swings in the playground and there is like a magic our experts has design the most studios collection of swings to make the children smile and enjoy the swing flying up in the sky. We manufacture number of swings like arch, jolly, double, triple, butterfly, zigzag, tiers' and many more.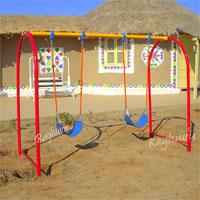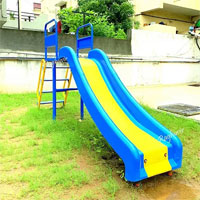 From pre-school to school and playground are not complete with wide range of slide such as baby plain, plain, wide, spiral, wave (FRP), roller, double, double side with canopy, straight curve, mini tube and combos.
We offer a gamut of climbers like rainbow ladder, "S" Bridge ladder, Satellite Climber, moon, giraffe, straight net, loop rung, sunset, spiral, A to B, Sea Monster, Criss-Cross, crystal maize, square, rocket, round, rainbow, elephant and adventure.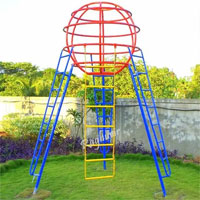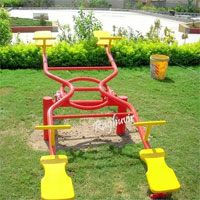 We tailor design our see-saw as per the client specification which keeps the children for coming for more at the playground and we offer a wide range of see-saw such as see-saw of single seat, multiple seat and smiling.
Kids of all ages love the ride of a Merry Go Round that helps them maintain their balance and have fun. Our team designs varied type of merry go round such as revolving platform, 4 seater, animal animated, ocean wave, horse shape, Mickey revolving platform, twindler go round, cycle, self, rainbow and many more.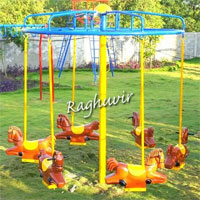 PlayNxt Range of Outdoor Play Equipment
With the advanced technology used we are the leading manufacturer of PlayNxt Range playground equipment which includes and wide range of PSLV multiplay system, zip-liner, jungle gym and cart multiplay station.
The system helps kids to play and have knowledge about the astronauts of Indian who has contributed as scientist to develop our nation. It is basically a mini rocket launch structure and our team has designed with client specification needs.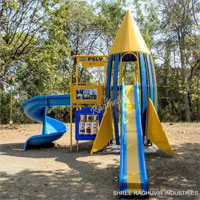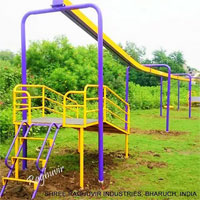 Zip Liners are among the favorite for kids on any playground for many years. Now, with zip liners being the fastest growing recreation sport in the world we are excited to bring zip liners to the playground will make children strong and healthy.
The jungle gym known as climbing frame or monkey bars,  we manufacture a piece of playground equipment made of many pieces of material, such as metal pipe or rope, on which participants can hang, climb, sit, and in some configurations slide and swings.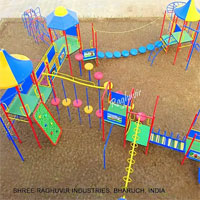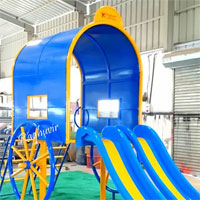 We are one of the leading suppliers of cart multiplay station kids play stations & kids multi play systems which for kid aged 3 to 12 years old that is made to meet the client's specification.
R- Urban Ramak Range of Outdoor Play Equipment
With modern and robust technology we offer wide range of double swing, circular swing, FRP Wave Slide, Mini See-Saw, Double Bar, Tiltable Dustbin, One Deck Multiplay Station and etc.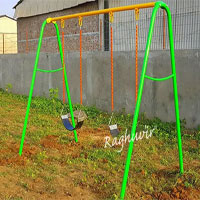 We designed them using the best durable plastics, metals or wooden frames so that children can swing as high as possible without worrying and it come is tailored made shapes as per the clients requirement.
We offer to our clients a broad assortment of Circular Swing and our team is trustworthy who use superior quality raw material and advanced technology to manufacture the offered swings. Our swing is designed to be easy to install, eye-catching design and anti-corrosion so that its wear and tear is less.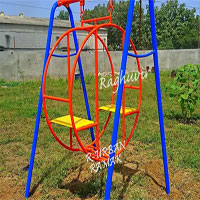 Garden Range of Outdoor Play Equipment
Our outstanding and stylish animal featured garden range gets children attracted and would use the equipment like animal characters dustbin, plank or wood benches, swings and many more.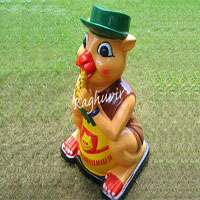 We are the leading manufacturer that are offering excellent quality collection of Joker Dustbins. Our experienced team designs a quality range of FRP outdoor dustbins designed which is facilitated by our high quality, reliable workforce. We are trusted supplier of these dustbins which are attractive and sleek, durable, suits all weather and easy to install and maintain. These can be availed to our clients at very effective rates. These are perfectly designed and made from durable quality materials which give them strength and long life.
We are professional in catering and manufacturing for our clients a wide range Monkey Dustbin. Our company offered range are available in different sizes, dimensions and grades as per the client's detailed specifications. It is assured to our clients at very effective rates. These are perfectly designed and made from durable quality materials which give them strength and long life.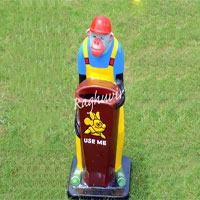 Exercise Range of Outdoor Play Equipment
Children are fabulous when it comes to exercises and our maize, cross and zero, rocking boat (2 seat), rocking boat (4 seat), discs challenger and the like is built with high-durability and at an inexpensive rate.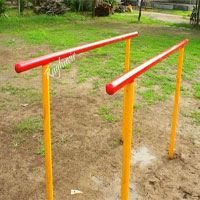 We manufacture double bar that are highly required for their longer service life, sturdy construction and hassle free usage. Apart from this, we are providing these products at leading market price.
A Pull up Bar is a tool for upper body exercise where a child can grip an overhead bar and lift the body up to the chin and above that bar.